Your Durham Tech librarians are here for you, virtually and in-person at the Main Campus and Orange County Campus Libraries.
A very important reminder: If you're coming anywhere on any of the Durham Tech campuses, you need to wear an effective face covering over both your nose and mouth the entire time you're on campus. Masks are available at the Library desk and other locations on campus for those who need them.

We want to encourage you to stay online if you are able. The Center for Academic Excellence has awesome tutoring available for technology help and you can always chat with or email your librarians. Need a computer, Chromebook, or internet at home? Check out the Computer and Internet Assistance page to get started requesting help.
If you feel sick, have been tested for COVID and are waiting for the results, or have been exposed to COVID, please stay home. Give us a call (919-536-7211, extension 1631) or send us an email (library@durhamtech.edu) to see how we can help you remotely.
---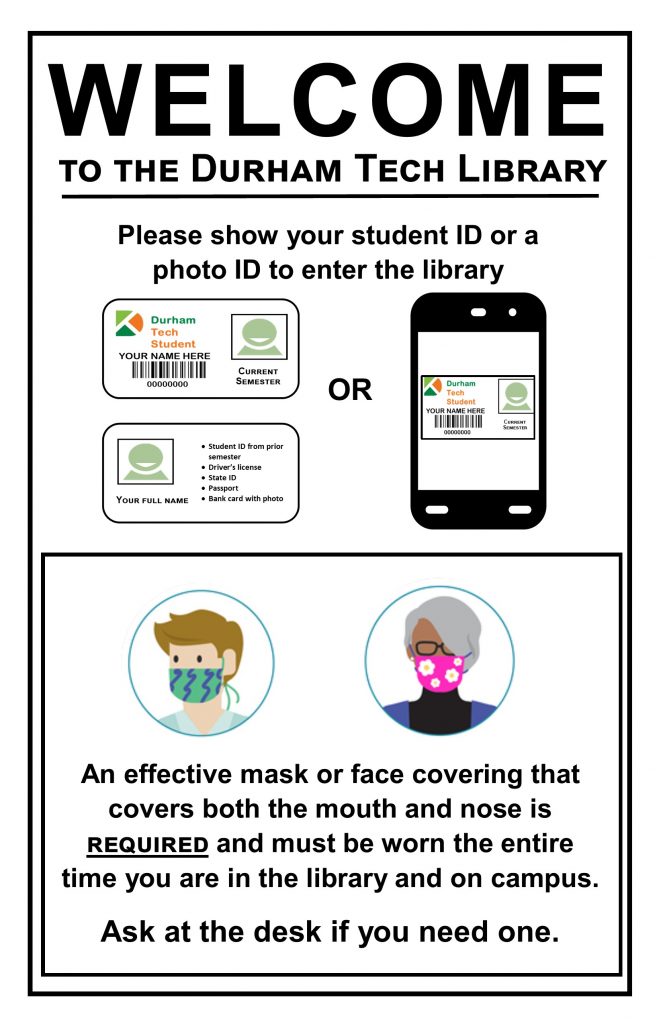 If you do need to come to campus when we are open, you will be required to complete the Durham Tech Daily Check-In form to get the daily code word. When you arrive in the library, you will be required to check in at the library desk with a photo ID (student ID preferred) for contact tracing and you will give the daily code word and have your temperature checked. Quick trips are encouraged.
We are currently operating at a 25 person maximum capacity, and our downstairs areas are closed (study areas, downstairs computer lab, and book stacks). If the Library is at maximum capacity, you'll be asked to wait outside until someone leaves. When health conditions improve, the maximum occupancy will increase.
---
Well, what can you do and what can we help you with through virtual and in-person library services?
Read more ABOUT LIBRARY SERVICES