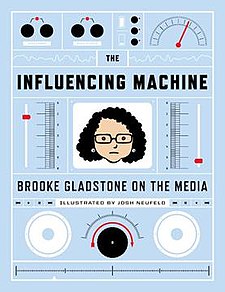 This book was read by Meredith Lewis, the [mostly] Orange County Campus Librarian, and is available for checkout at the Main Campus Library.
Title: The Influencing Machine: Brooke Gladstone on the Media
Author: Brooke Gladstone and illustrated by Josh Neufeld
Genre: Social Science, Graphic Novel, Historical Overview
#ReadGreatThings2019 Category: A social science book; A book about technology; A book that will help you with one of your personal goals [if increasing your media literacy is one of your goals]
Check out our blog post on the Read Great Things 2019 Challenge.
---
Why did you choose to read this book?W
Meredith: Well, Courtney recommended it to me. Since this book is about the history of the press/media and how it gets made and influenced in our modern world, I was especially interested from an information literacy standpoint. I mean, knowing how our news gets made matters, right? [Spoiler: The argument made in this book is yes.]
What did you like about it?
Meredith: In general, I'm interested in learning about the history and contexts of things and this book really goes into (in a pleasant visual format) how media and government have this push-pull (repeat) relationship. I really like how Brooke Gladstone (an NPR journalist) investigates things that go into our modern media marketplace like money, bias, and information overload. She also calls out problematic practices in journalism.
What feeling did the book leave you with?
Meredith: It left me feeling optimistic, actually! I genuinely believe that the world is full of the capacity for positive change and being informed and aware of the biases and structures around us matters and can help contribute towards making those positive changes.