Title: Wrecked: An IQ Novel

Author: Joe Ide
Genre: mystery, street lit
Why did you choose to read this book?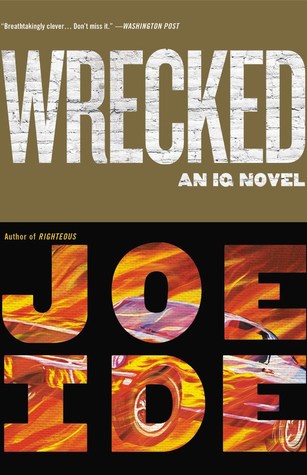 This is the third book in the IQ series, which features protagonist Isaiah Quintabe ("IQ"), a small-time, self-styled private investigator from East Long Beach, California. I enjoyed the first two books—IQ and Righteous—so I picked up the third.
There are several traits of the main character I appreciate. IQ, motivated by the memory of his older brother Marcus, who was murdered, pursues justice rather than greed, often accepting token gifts, like a handmade Christmas sweater (in Southern California!), in lieu of money from his clients. He is also a critical thinker and careful planner. He is skilled in reading people and memorizing small details about people and his surroundings. These traits define IQ and drive the plots of the series' books.
In Wrecked IQ becomes embroiled in a mystery and becomes attracted to his client Grace, who hires him to find her mother, whom she has not seen in 10 years. The plot and its many subplots cover IQ's business relationship with his mismatched partner Dodson; a complicated backstory that slowly reveals itself, and encompasses family secrets; WSSI, a paramilitary U.S. government contractor, whose employees have histories of torture and cover-ups at Abu Ghraib; and a love story.
What did you like about it?
Isaiah Quintabe is one of my favorite fictional characters. Wrecked presents bigger challenges for IQ to navigate than the previous books in the series. (Spoiler alert!) The opening pages reveal tough-talking ex-military thugs brutally torturing a victim (It's IQ!), hoping to beat information out of him. The thugs work for the CEO of the international security firm, WSSI, which provides the advantages of cash, trained killers,and security clearances. WSSI and IQ are in pursuit of the same person. Who will prevail?
Joe Ide has a knack for revealing characters through dialogue. One example is Junior, a drug dealer, speaks as if he "swallowed a dictionary sideways," misusing big and obscure words to comic effect. Dodson's wife Deronda, the several brutes—Jimenez, Hawkins, and Owens—from WSSI, and many others populate Wrecked with distinctive voices.
Did it remind you of any other book, or a movie?
The first detective stories I enjoyed were Hardy Boys and Encyclopedia Brown books. Using evidence at hand to solve mysteries fed my appreciation both for books and for applying critical thinking skills. As a child, I fantasized that I, too could be a successful detective. Maybe that helped drive me to a career as a librarian: I help people use information to solve their own problems and answer their own questions.
Was there anything noteworthy about the book?
There is a rumor that Ide is in contract with Alcon Television Groupto develop a television series around IQ.
With what feeling did the book leave you?
Frankly, I have enjoyed each book in the series less than the one that came before it. Ide's trick of revealing how a problem was solved—after the action that depended on having solved the problem—wears thin. Rather than a feeling of suspense-then-relief, I experience bewilderment followed by a magician showing me exactly how easy it is to make a building disappear. I also found the love story between Isaiah and Grace to be little more than a plot device.
I hope the next book in the series, Hi Five, is better. I'm not ready to give up on Joe Ide yet, and definitely not ready to give up on IQ.
To whom would you recommend this book?
Fans of gritty mystery writing will probably enjoy this book.
With what would you pair this book?
Let me recommend an old film noir flick, The Third Man, released in 1949, which features protagonist Holly Martins bumbling through an investigation into the circumstances around an old friend's death. Based on a novella by Graham Greene, it is a whodunit with a surprising twist and the story resolves through successively-increasing climaxes.
Observe how the film's suspense is maintained while information is revealed to Martins and the viewer at the same time. Contrast that with how Wrecked keeps secret information about IQ's investigative tactics until after the story plays out.