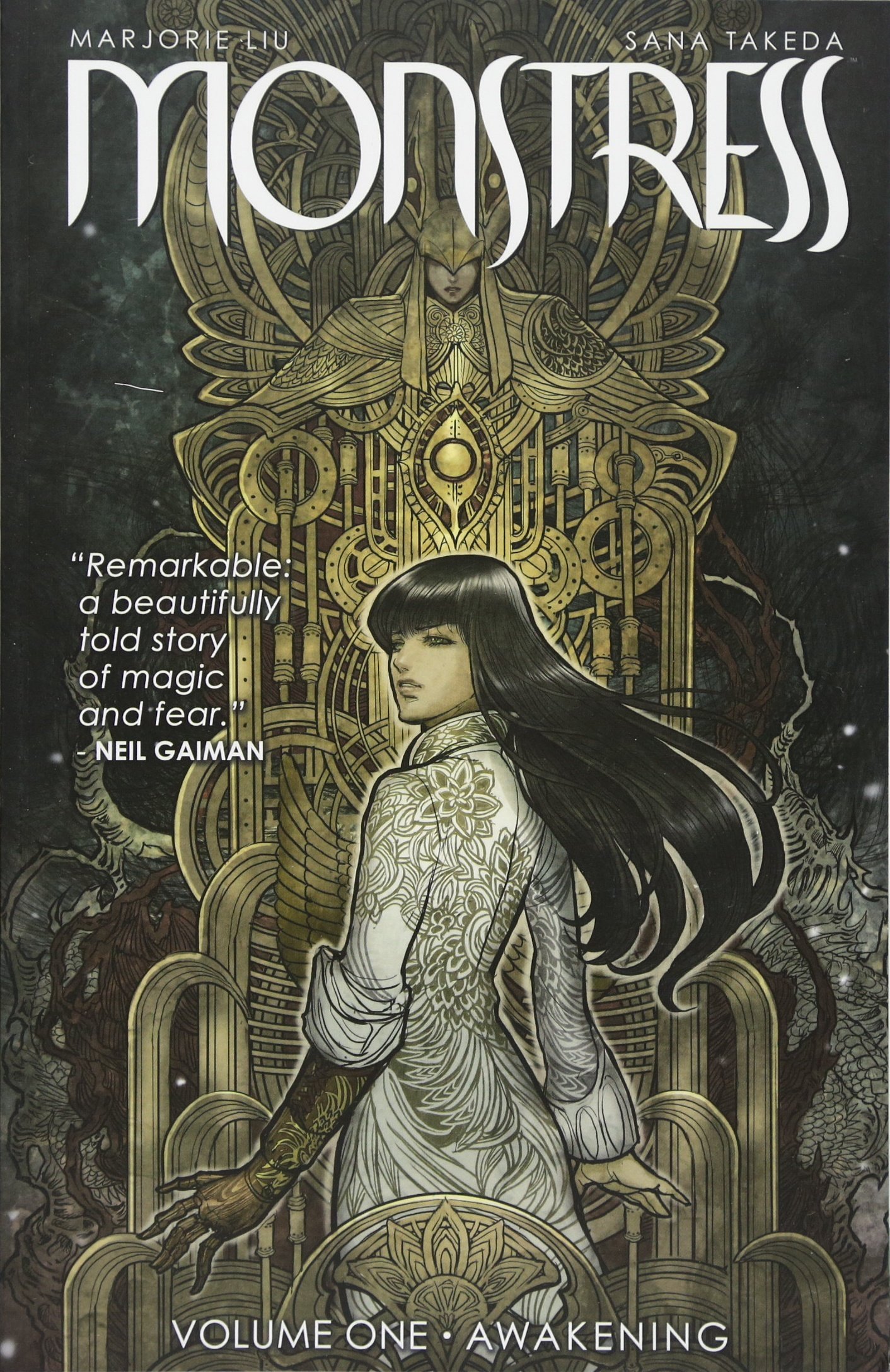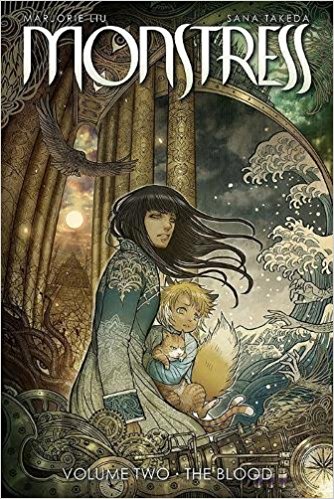 This series was read by Meredith Lewis, Orange County Campus Librarian.
Genre: Graphic Novel/Comic Book
#ReadGreatThings2018 Category: A book that contains a supernatural creature [loads], occurrence [more than one], or event [very much yes]
Find out more about the Read Great Things Challenge here.
Why did you choose to read this book?
I picked up Monstress Vol. 1 a year or so ago in an effort to check out some new graphic novels. The graphics were beautiful and there was a weird multi-tailed cat in one of the preview images. I'm a simple person–I may have chosen it for both the positive reviews and the cats. It's also really beautifully illustrated (and terribly bloody and twisted). 

I chose to continue the series because it's dark and fascinating. The main character, Maika Halfwolf, is scarred emotionally from a war between entities in her world that left a huge number of beings dead and many more brutalized, but her physical scarring comes from a terrifying (and very hungry) monster that she shares her body with. She reluctantly takes on a half-fox and two-tailed necromancing talking cat as sidekicks. Look, it's really weird (as I say out loud frequently while reading it), but really interesting. And it's not as whimsical as the animals make it seem.
What did you like about it?
Maika's exploration of where she ends and the monster begins is really fascinating, especially since they can see into each others' memories. The second volume starts to clear up some of the mysteries introduced in the first volume, but I still have more questions! (Volume 3 comes out later this year, so I'll just have to wait unless I want to buy individual issues of the comic.) 
Did it remind you of any other book, or a movie?
The second one reminds me ever so slightly of Pirates of the Carribean… but that's only because there's a ship and a terrifying island and ghosts.They do not share a similar tone AT ALL. 
Was there anything noteworthy about the book?
If you're into awards, this (along with My Favorite Thing is Monsters, also available at the OCC Library) was nominated for a 2018 Eisner Award and Vol. 1 won a Hugo Award last year. 
Who would you recommend the book to?
If you're into dark fantasy and beautiful art and weird stories with anthropomorphic animals and half animals and monsters, this is probably going to be your jam. All the trigger warnings, though. 

I found this Hollywood Reporter article interesting, too, for more information: 'Monstress': Inside The Fantasy Comic About Race, Feminism And The Monster Within