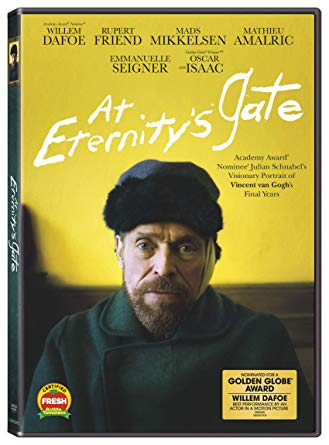 This movie was watched by Julie Humphrey, Library Director.
Title: At Eternity's Gate
Director: Julian Schnabel
Genre: Drama
Why did you choose to watch this movie?
I liked one of the director's previous films (The Diving Bell and the Butterfly) and I wanted to learn more about Vincent Van Gogh. Willem Dafoe was nominated for a best actor academy award for this role and I really like his acting and I enjoy biopics.
What did you like about it?
It was a fascinating and vivid portrait of the artist later in his life, during his time in Arles, Southern France. It wasn't a traditional biography chronicling his entire life, but instead just exploring the short time he lived and worked in Arles. His friend, painter Paul Gauguin, comes to live and work with him for a while and I didn't know about their intense relationship. It's a beautiful film and setting with outstanding acting, but not a lot happens. It's more of a meditation on Van Gogh as an artist, what his days are like, his artistic process and vision.
Did it remind you of any other movies?
Other artist biopics like Frida, starring Selma Hayek as Frida Kahlo and Pollock, starring Ed Harris as Jackson Pollock. I now also want to watch Schabel's 1996 film Basquiat, about NY painter Jean-Michel Basquiat.
Was there anything noteworthy about the movie?
Watching this film, really felt being inside Van Gogh's mind. Viewers experiences the agony and torture of mental illness. Also, Dafoe looks remarkably like Vincent Van Gogh even though Dafoe is actually about 30 years older than Vincent is in the film! Vincent's famous "ear incident" is also depicted.  I never really knew the story behind it.
Who would you recommend the movie to?
Anyone who appreciates art, artists, or art history, fans of biography, anyone interested in exploring mental illness through film.
What would you pair this movie with?

Books of Van Gogh's drawings, paintings, and letters.