The North Carolina GlaxoSmithKline Foundation has awarded $50,000 to the Durham Technical Community College Foundation to create the Dr. Phail Wynn, Jr. Library Endowment.
Dr. Phail Wynn, Jr. served as president of Durham Tech for 27 years. Upon his retirement in 2007, he established The Dr. Phail Wynn, Jr. Collection at the Durham Tech Library. Dr. Wynn generously supported the collection through personal philanthropy until his passing in July 2018. The library is very proud of Dr. Wynn's collection and we are thrilled that that we can sustain and grow it in the years to come to honor his memory and legacy. When students ask about the special collection it is a wonderful opportunity to tell them about our inspirational former president and his commitment to education, passion for service, dedication to the community, and his vision for the future.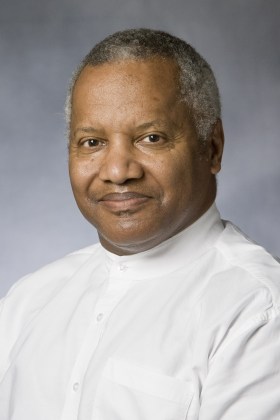 Dr. Wynn's collection promotes cultural awareness, tolerance, diversity, environmental conservation, sustainability, and peace. The collection is located on the upper level of the library. Here are some new titles recently added to the collection. Visit our display window at the entrance to the library and ask a staff member if you would like to borrow any of the materials on display.

Climate Justice: Hope, Resilience, and the Fight for a Sustainable Future

Case Studies on Diversity and Social Justice Education

How to Work with and Lead People Not Like You: Practical Solutions for Today's Diverse Workplace

Palaces for the People: How Social Infrastructure Can Help Fight Inequality, Polarization, and the Decline of Civic Life

Zero Waste: Simple Life Hacks to Drastically Reduce Your Trash

Amity and Prosperity: One Family and the Fracturing of America

The Revolution Generation: How Millennials Can Save America and the World (Before It's Too Late)

Team Human

Reduce, Reuse, Reimagine: Sorting Out the Recycling System

Culturally Responsive Teaching and the Brain: Promoting Authentic Engagement and Rigor Among Culturally and Linguistically Diverse Students