This book was read by Julie Humphrey, Library Director.
Title: The Library Book
Author: Susan Orlean
Genre: Nonfiction
#ReadGreatThings2019 Category: Social Science book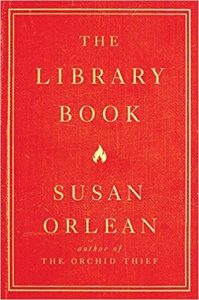 Why did you choose to read this book?
I always enjoy Susan Orlean's writing in the New Yorker magazine and really liked her book The Orchid Thief. This is an ode to libraries so how could I resist? It also has a beautiful cover!
What did you like about it?
This book provides a fascinating account of the Los Angeles's Central Library fire of 1986 as well as the process of rebuilding and restoring the library and the ongoing investigation of a primary suspect. It's also a love letter to libraries, library staff, and books.
Did it remind you of any other book, or a movie?
Susan Orlean's writing reminds me a lot of Mary Roach's writing. She sometimes dives deep into a rabbit hole and goes on strange and wacky tangents that are completely compelling. Orlean and Roach both weave in interesting stories, history, and trivia that are so entertaining and fun. This reminded me a lot of Packing for Mars, not in subject matter, but in style.
Was there anything noteworthy about the book?
I especially appreciated her extensive research, interviews, and visits to libraries.  I loved Orlean's own personal stories of her library experiences when she was growing up in Ohio and the stories of visiting her local public library with her young son.  She also explores the library as a vital public institution and discusses challenges that many libraries face today.  She profiles inspiring librarians and library staff working in libraries across the country.
Who would you recommend the book to?
Nonfiction readers, book lovers, library supporters, anyone interested in fire and arson investigation, true crime readers, and all bibliophiles.
What would you pair this book with?
A working fire alarm, a fire extinguisher, a good sprinkler system, and a library card!  Also, I'm excited to read her previous book, The Bullfighter Checks Her Makeup: My Encounters with Extraordinary People which we just ordered for the library and is on the new book shelf.