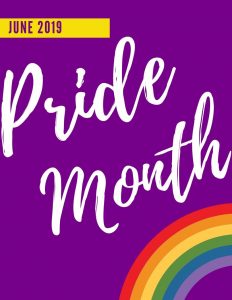 Each June, the library celebrates the lesbian, gay, bisexual, and transgender communities by highlighting resources in our collection.  We have recently added several new DVDs and books at Main Campus Library! 
My Best Friend (Mi Mejor Amigo) DVD: PN 1997.2 .M9 2018

Bingo Love graphic novel: PN 6727 .F73 B56 2018

Legal Guide for Lesbian and Gay Couples book: KF 539 .C58 2018

1985 DVD: PN 1997.2 .A185 2018

Trans Teen Survival Guide book: HQ 77.9 .F57 2019

We All Loved Cowboys book: 9698.412 .E57 B45 2018

Boy Erased DVD: PN 1997.2 .B69 2019

Jack Not Jackie book: PZ 7 .S58625 JAC 2018

Miseducation of Cameron Post DVD: PN 1997.2 .M56 2018

The pride guide : a guide to sexual and social health for LGBTQ youth book: HQ 76.27 .Y68 L36 2018

Transmilitary DVD: UB 418 .T72 T75 2019

End of Eddy book: PQ 2712 .O895 E513 2018
Explore the library's guide to LGBTQ resources for fiction, graphic novels, nonfiction, ebooks, DVDs, streaming video, and recommended websites. 
Last week Governor Roy Cooper proclaimed June as LGBTQ Pride Month in North Carolina. The month of June was chosen to commemorate the riots that took place at the Stonewall Inn in Manhattan, New York, June 28, 1969, which is viewed as the beginning of the modern LGBTQ rights movement. The proclamation says "the state of North Carolina will continue to advocate for statewide protections for all LGBTQ individuals to make our state a place where all people – regardless of their sexual orientation, gender identity, or gender expression – are treated with dignity and respect."